KEES Manufactures Industrial Hoods for
University of Wisconsin Center of the Arts
Design the Perfect Hood to Capture Your Needs
August 27, 2020
"Hands on" learning is a crucial aspect for the success of schools. The more real life, tactile examples, the better. Fortunately, the University of Wisconsin at Whitewater found that KEES could be their single source for a myriad of industrial hoods that were needed for their Greenhill Center of the Arts, the largest academic building on a campus of 12,000 students.
PROJECT REQUIREMENTS
The University of Wisconsin - Whitewater needed a partner to design and manufacture the stainless steel industrial hoods for their entire art department. These hoods were a critical tool to capture and exhaust contaminants near their source to create a healthier environment for students and their instructors.
KEES stepped up to the challenge, working closely with the customer to determine their needs and expectations. This included conventional overhead, slotted backshelf and barrel hoods as well as unique hoods to exhaust heat and smoke during metal casting. These unique hoods needed to move up and down and laterally at different stages of the metal casting process. Every one of the hoods on this project were specially sized to fit the needs.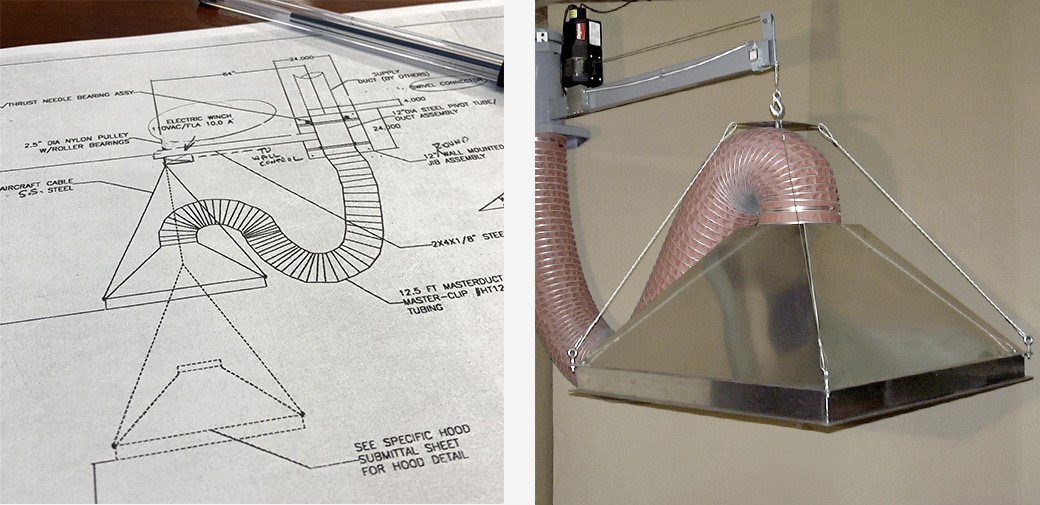 WHY KEES
Our company was founded as a hood manufacturer over 40 years ago. This experience and knowledge has led to a deep understanding of what can be done, what should be done and what should be avoided. We can push and modify designs without compromising performance. In the words of our founder, Ed Zieve, "If you can draw it, we can build it." Whether it's baffles, filters, light fixtures, oversized multi-section assemblies, or special materials, KEES is here to help design and fabricate the perfect hood to capture your needs.
We offer tapered and rectangular overhead hoods as well as slotted backshelf and barrel hoods. They are available in almost any material and with any finish. Finally, contact us for integrated workstations and other source capture options such as paint booths, downdraft tables, custom enclosure hoods, floor sweeps, grinding hoods and more.
LEARN MORE ABOUT INDUSTRIAL HOODS