KEES Manufactures Drop Box Diffusers
for Milo's Tea Company
Unparalleled Product Value Results in
Sweet Success
April 21, 2020
KEES is committed to manufacturing high-quality products at a fair price. It's just one reason we were selected to help Milo's Tea Company expand their production facilities. Founded in Alabama in 1946 by a WWII vet and his sweetheart, Milo's is a great American success story. They grew quickly in popularity, and that momentum has continued. Their Famous Sweet Tea fills supermarket shelves across the country. Our challenge? Do our part to ensure their supply can meet their growing demand.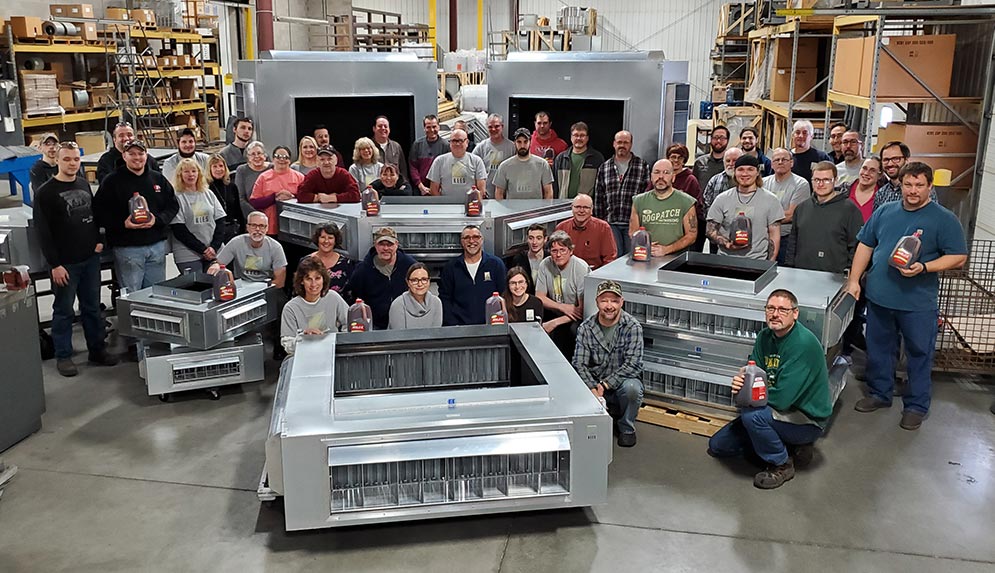 PROJECT REQUIREMENTS
Milo's new 108,000 square-foot ($60MM) facility near Tulsa, Oklahoma required eleven drop box diffusers with drum louvers to supply conditioned air to a variety of food production and storage environments. These eleven assemblies were all unique ranging in size from 24 inches to 10 feet and capable of handling 2,500 to 35,000 CFM. Materials ranged from galvanized steel to 316 stainless steel. Both single-wall and double-wall insulated units were needed as well as stitch welded and continuously weld. What single manufacturer could deliver such a variety of high-quality products?
WHY KEES
All of these requirements are normal for us; even continuously welded seams and stainless steel construction. While we welcome challenges like this and handle them expertly; our competitors are not comfortable attempting them.
Even though each drop box was a little different, we're proud of them all. They show our high level of craftsmanship and ability to manufacture products that meet your needs -- all at a reasonable cost. It's product value at its best.
With conditioned air moving efficiently through this new facility, we are proud to contribute to Milo's continued success. From the whole team at KEES, we'll raise a glass (of sweet tea) to that!