KEES Industrial Hoods Offer Versatile,
Custom-Fit Solutions
High-quality exhaust ventilation
for every application
October 20, 2021
Forty years ago, KEES founder Edward Zieve said, "If you can draw it, we can build it." To this day, KEES craftspeople deliver on that promise by building industrial hoods for an extensive range of industrial, commercial, medical, research and development and school applications.
KEES, a company founded on hoods, offers exhaust ventilation solutions that effectively remove airborne contaminants and ensure healthier indoor air quality. Customers can select from a wide range of standard hoods with a variety of options, but because each exhaust system is different, KEES relies on decades of engineering and design expertise to meet each project's specific airflow and dimensional requirements to provide customized installations.
KEES has a diverse range of customers and no two projects are ever the same. Read about a few of them below.
Ventilation for a Global Sanitation Leader
KEES recently fabricated massive, multi-section industrial hoods for Sterigenics, a leader in sterilization for medical device, pharmaceutical, commercial, advanced radiation processing, pharmaceutical and food industries. The longest of these hoods measured 70 feet long, 10 feet wide, and consisted of 14 combined sections. Sterigenics uses gamma, ethylene oxide, electron beam and X-ray sterilization techniques to eliminate potential health threats for clients. The global company entrusted KEES for its facilities' ventilation requirements.

Customized Solutions for Wastewater Treatment Facilities
Two facilities within the same industry had vastly different ventilation projects, and KEES provided customized stainless steel solutions for both. The water treatment plant in Wausau, Wisconsin, provided a drawing of what they needed and KEES brought it to life. The countertop industrial hood in the facility's lab features custom sliding glass panels that capture contaminants while providing an unobstructed view of the testing process. Another wastewater treatment facility, this one in Sacramento, California, requested a special industrial hood consisting of inner and outer hoods. While the inner hood captures larger volume, the narrow slot created around the perimeter by the outer hood has higher velocity and creates a protective air curtain. KEES built the 22-foot hood with extra structural reinforcement to ensure years of reliable use in the wastewater treatment environment.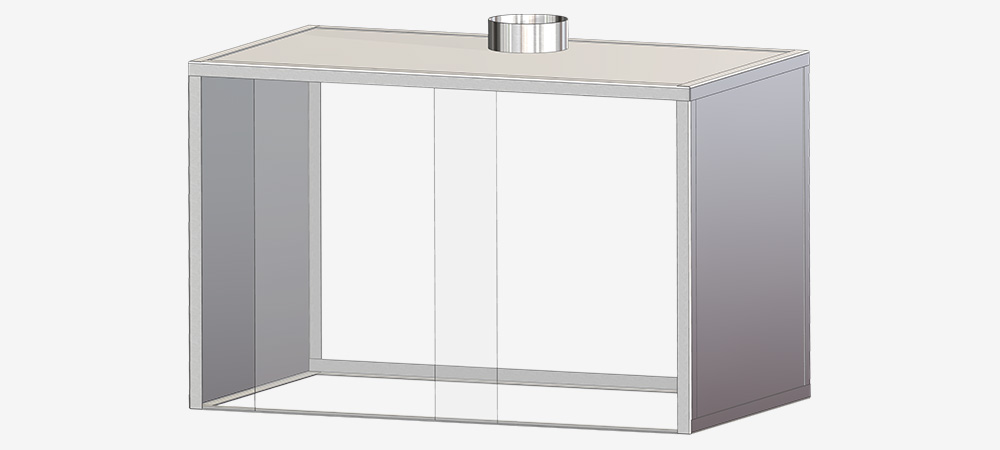 Helping the Met Showcase the Masters
The Metropolitan Museum of Art in New York City, one of the world's largest and most famous art museums, hosts more than 30 art exhibitions each year. Installing, de-installing and maintaining art requires specialized equipment in dedicated studios. Tasked by an engineer to draw up and manufacture a custom paint booth for the Met's art preparation studio, KEES fabricated an incombustible stainless-steel paint booth with LED lighting and paint filters. The project exhibited the unexpected connection between craftspeople who shape steel and curators of great art.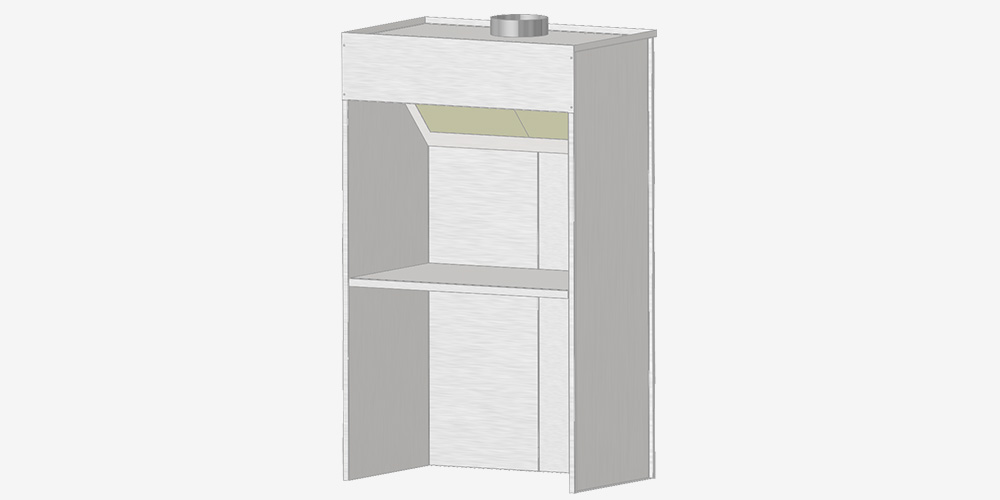 Tailormade for Your Project
KEES unique industrial hoods are matched to your specific airflow and dimensional requirements. We offer a broad range of overhead hoods, slotted hoods, integrated workstations and source-capture options with custom sizing to ensure a perfect fit. No size is too large and every size can be specified down to one thousandth of an inch. The units are fully assembled and shipped in a single piece or in sections if the overall size does not allow easy handling or shipment by truck.
Tap into our team's expertise for your next ventilation project. Explore KEES industrial ventilation products to get started on making your vision a reality.