PROTECT ROOFTOP PENETRATIONS WITH PIPE PORTALS
KEES OFFERS PIPE PORTAL SOLUTIONS FOR ANY COMBINATION OF PIPE SIZES AND QUANTITIES
August 30, 2023
From Texas Tech University to numerous 7-Eleven stores, companies and institutions throughout the country rely on KEES to protect rooftop openings.
KEES pipe portals protect rooftop piping and electrical conduit penetrations with an insulated, leakproof enclosure that is customizable for every pipe size and application. While other manufacturers are limited to specific pipe sizes, KEES offers pipe portal solutions for any combination of pipe sizes and quantities. The portals, which are easy to install, provide a clean, streamlined appearance that keeps piping and conduit openings weather-tight.
Accommodating a wide range of air, gas, water, steam, and refrigerant pipe sizes, the portals feature continuously welded seams and a watertight seal to prevent leaks. The 3-pound density insulation board and 1/8-inch flex super seal offer year-round protection from fluctuating conditions. The 18-gauge galvanized steel construction ensures durability and longevity.
Pipe portals are typically mounted on a roof curb that can be furnished by KEES or by others. In addition, KEES offers a self-flashing version that does not require a separate roof curb. The portals feature a support bracket that is easily removed and reattached after pipe installation while a removable cover provides ease of access.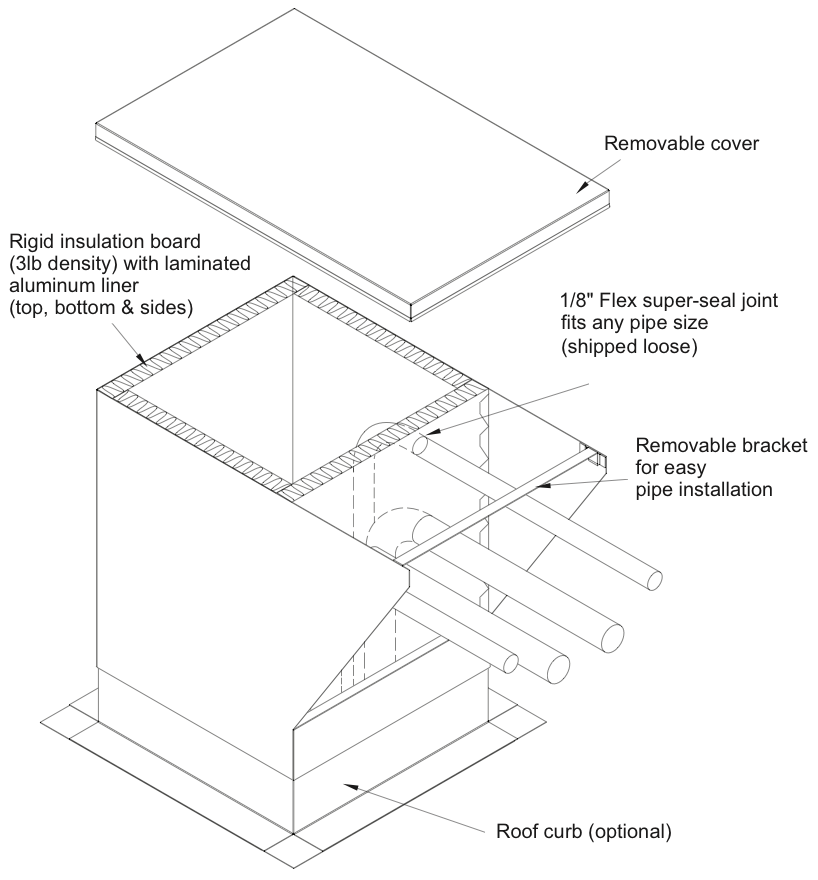 Our pipe portals have been used in various projects across the country—from convenience stores to schools to hotels. Satisfied customers include:
7-Eleven: We have completed over 100 pipe portal installations throughout Texas, including the corporate headquarters in Irving.
Texas Tech: This university in Lubbock, Texas, needed a custom-sized enclosure to perfectly fit and protect its rooftop piping systems. Our pipe portals met their requirements and expectations.
AC Hotel by Marriott: This hotel in Portland, Oregon, required a durable and leakproof enclosure for its rooftop piping. Our pipe portals provided the perfect solution.
DOWNLOAD THE PIPE PORTAL SUBMITTAL NOW