Architectural bar grilles & grates
Call us overachievers, but we're pretty proud of our architectural bar grilles and bar grates that provide comfortable air distribution, plus distinctive customized looks.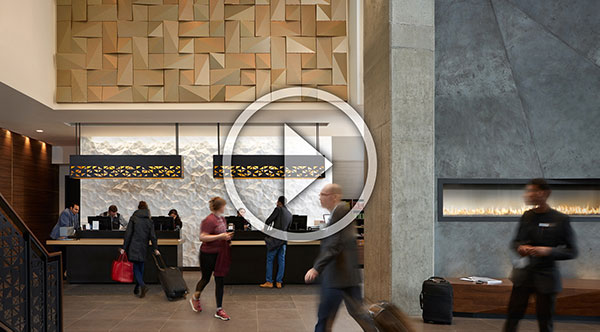 This category includes a variety of core and frame styles for floor, wall, ceiling and sill applications in a range of attractive materials and finishes. We have helped architects realize their visions by providing such things as serpentine-shaped floor-mounted bar grilles that draw visitors through a space, and convex curved wall-mounted bar grilles that help envelop the occupant in an inviting space. Installations can be customized with mitered corners, with cut-outs to clear obstructions or with hinged or removable sections.
High-quality materials and finishes provide lasting style and durability
Versatile mounting options fit any application
Concave or convex curved to follow the shape of walls and columns
Curved or mitered floor and sill sections to fit any curved or segmented line
KEY
Models
CSI format specifications
Custom specifications can be created using the ARCAT Specification Writing Tool, SpecWizard.
Size availability
Bar grilles and grates are generally available in a single piece up to approximately 96" x 48".  Larger grilles of unlimited size can be made of multiple sections for field assembly.
MATERIALS
Aluminum
Stainless Steel
Brass
Paint finishes
Bar grilles are available in a wide variety of standard and custom paint finishes.
Standard colors for two-part polyurethane coating:
White
Flat Black
Satin Black
Gloss Black
Grey
Tan
Silver/Aluminum
Brass
Commercial Bronze
Light Bronze (311E)
Medium Bronze (312E)
Dark Bronze (313E)
Also available in custom colors and finishes
Stainless Steel finishes
Mill (Limited to "industrial grade" applications)
Satin polish
Bright electropolished
Mirror polish
Primer
Clear lacquer
Two-part polyurethane in standard or custom colors
Epoxy in standard or custom colors
Aluminum finishes
Mill
Clear or color anodized
Primer
Clear lacquer
Two-part polyurethane in standard or custom colors
Epoxy in standard or custom colors
Brass or bronze finishes
Satin polish
Oxidized with or without clear lacquer