KEES delivers custom grilles
to Residence Inn hotel in Calgary
Form meets function
in this stylish new Hotel
January 15, 2020
Upon entering the stylishly-modern lobby of the new Residence Inn by Marriott, in Calgary's bustling downtown Beltline District, one is immediately struck by the unique display of artwork and architectural details. A spiraling tower of wooden timbers reaches up to the ceiling, 40 feet overhead. A wall of flames behind a shimmering panel of glass serves as a warm and welcoming kinetic sculpture. But perhaps most impressive, an enormous 20-foot relief sculpture of bronze-colored metal spanning the wall high above the twin reception desks. Constructed of 100 separate perforated metal panels, few if any patrons realize that this one-of-a-kind artistic statement is every bit as functional as it is striking.
An impressive new 35-story addition to the Calgary skyline, the hotel is the work of LEMAYMICHAUD Architecture Design, of Montreal. The multi-faceted relief sculpture in the lobby is in fact part of the building's HVAC system—a custom designed and built return air grille. Yes, a return air grille.
A UNIQUE AESTHETIC VISION
The vision of Eve Morin and her team of interior designers, this impressive blend of form and function is one of three ventilation grilles manufactured by KEES, Inc., of Elkhart Lake, Wisconsin. "Mechanical grilles are always a necessary evil. 
"I've been doing this for 21 years and there's nobody else in the market who could've built these grilles, other than KEES, I promise you that."
- Scott Stone,
Air Chek Industries
This project presented us with an opportunity to integrate them into the overall aesthetic. Our goal was to create essentially highly visible works of art, while also meeting the functional requirements of proper air flow, as determined by the HVAC mechanical specifications. It was a new challenge, this was a first for us," says Morin.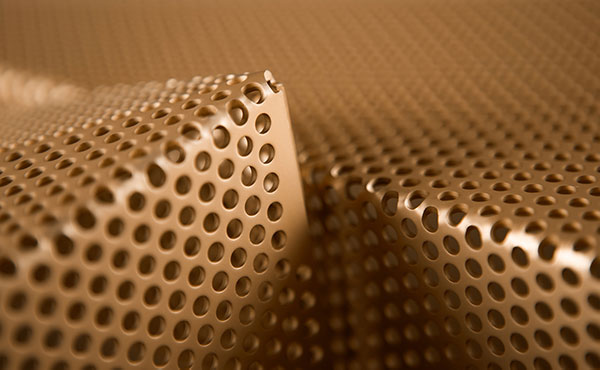 Exactly how does one go about creating something that has never been done before? When Scott Stone, Vice President of HVAC Systems at Air Chek Industries saw the mechanical engineer's plans, he knew instantly that KEES was the only supplier for the job. "I've probably done two to four thousand projects easily, special, standard, all in between. There's nobody else in the market who could've built these grilles, other than KEES. I promise you that," he notes.
Dwayne Little of Star Sheet Metal, the installing contractor on the project, agrees. "KEES has a strong reputation for this type of work, with great recommendations. There aren't many shops that can handle such a specialty type product. KEES is very detailed. They were our top pick for these unique grilles."
A PERFECTLY SUITED SUPPLIER
With over 40 years of custom work experience, every member of the KEES team is wired to solve each customer's unique challenges. For Dwayne Little "KEES definitely has designers and engineers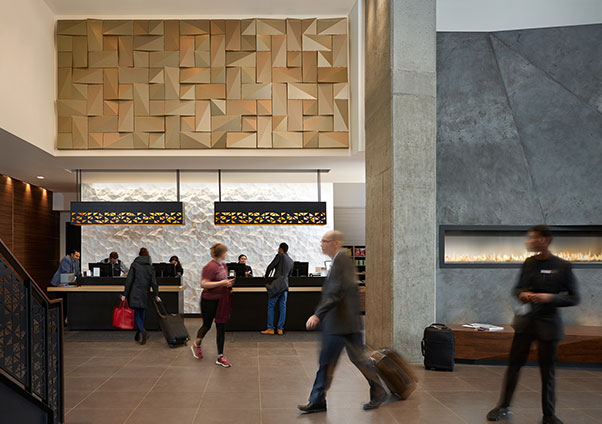 perfectly suited to build these types of grilles of high-quality work. They are very good on the design part,  but the workmanship—the way they formed the different materials and configurations—the craftsmen out on their shop floor are obviously very good at the actual manufacturing part as well."
This rare combination of skills is a source of pride for KEES President, Bob Norman, who thinks that even though many companies manufacture functional grilles, very few would have been able to deliver some as special as these. "They had to also look beautiful," he says, "definitely not something off the shelf."
Norman attributes KEES' agility and ability to deliver challenging custom solutions to his team's continuous efforts to update their knowledge: "We work in an environment in which tweaking and exploring allows us to learn new ways to improve ourselves and our processes."
THREE UNIQUE GRILLES
"Each of the three custom grilles are located in very high profile areas," says Morin, "and we designed each differently. We treated them as distinctly unique art pieces, and each makes sense in the context of their environment. The goal was to be bold and visible. Rather than try to hide the air returns, we decided to take ownership of the whole wall—really treat it as one big piece of art."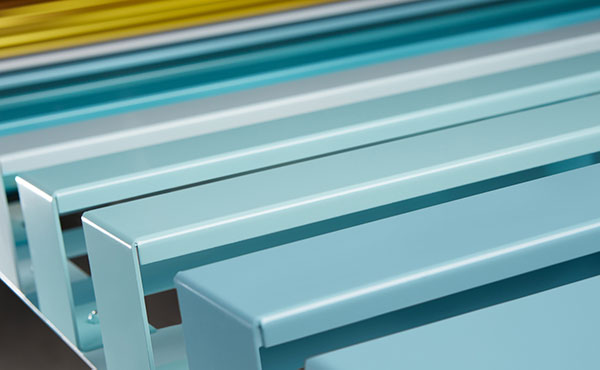 The most visible piece is located high up in a prominent space in the lobby. Morin continues, "The area above the reception desk was challenging, 
"We wanted the grilles to feel like artwork. We really didn't want them to look like grilles. I was very happy to see that the quality of work really reflected what we had envisioned."
- Eve Morin, LEMAYMICHAUD
Architecture Design
being so very high up and so large — every single guest is going to see it, it is your welcoming moment. The textures echo the wall treatment behind the reception desk, reminiscent of an ice field."
The other two return air grilles decorate the business and meeting areas on the second floor and were inspired by an image of sunrise over a hay field. The first is a floor-to-ceiling slatted grille comprised of 20 horizontal multi-colored slats in yellows and blues. The second grille is a cutout of geometric forms that are reminiscent of wheat with a gold mesh backing.
"We had to figure out how to paint 20 plus different colors and keep them separated. We had to get them dry while not blending into one another, and have the color matching come out perfectly", Norman says explaining the challenges his team had to face during the manufacturing process.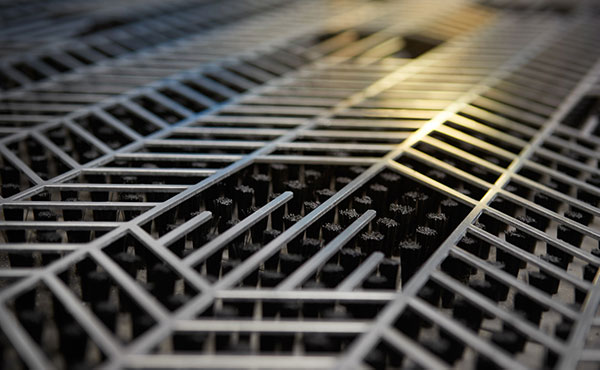 Designs so ambitious could have easily fallen short in the wrong hands. Such was not the case, as Eve Morin states: "We wanted our vision to come to life. Our concern was that the execution might not meet the level of our designs. We wanted the grilles to feel like artwork. We really didn't want them to look like grilles. I was very happy to see that the quality of work really reflected what we had envisioned. Everything turned out wonderfully, all three of them."
If you are interested in custom and specialty products, contact us.
CUSTOM PRODUCTS DEMAND A CUSTOM PROCESS
Manufacturing products that have never been created before requires a flexible and open minded approach. The team needs to review the 
"The whole process is about solving our customers problems. Not just making, but really thinking. Anyone can just fill an order, we strive to add more value to the process."
- Bob Norman, KEES
initial request, studying all specifications and drawings. It is also important to maintain an open communication channel and to make sure that everyone involved is well informed. It takes a very special effort to create the right plan. According to Norman, "a custom product needs to be reviewed and approved by all the participants in the process. We put together drawings, we created 3D models and prototypes, suggested some tweaks to enhance structural integrity without compromising aesthetics, provided sample color tests... we even created a video where the 3D models were rotated. This helped demonstrate exactly what they were going to look like."
HANDLED WITH CARE
While some manufacturers consider the work complete when a product leaves their dock,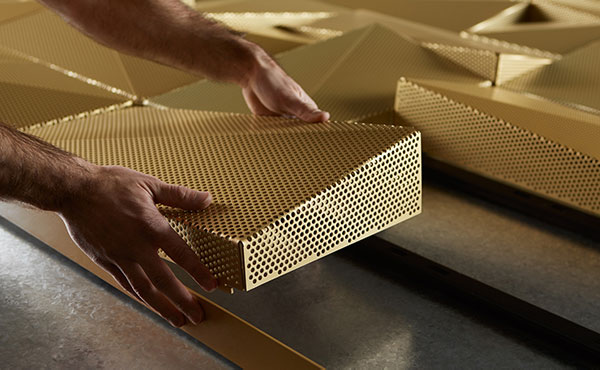 KEES is still on the job through the installation, making sure no detail is overlooked, anticipating transportation issues and taking care of them ahead of time.
According to Scott Stone who has been working with a variety of manufacturers in North America for over two decades, some unique, innovative, and very challenging special orders get damaged during the shipping process and often Sales Representatives and clients don't get the post-sales support they need. "When a product arrives and the crew is on site, ready to install, nobody likes surprises. KEES always comes through in this regard. They do a fantastic job."
ANOTHER CUSTOM JOB,
ANOTHER HAPPY CUSTOMER
Bob Norman is proud of his team comprised of a group of highly skilled professionals, assembled over decades, and committed to excellence. More than just a group of salesmen,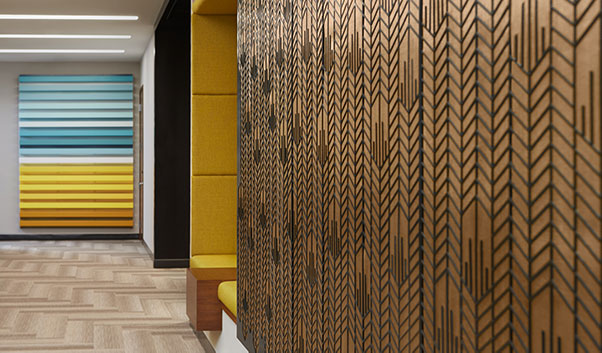 engineers and metal benders, everyone is wired to think critically, to solve problems.
"We have special artisans in the shop who really know how to make things by hand, how to use automation, and how to combine both. That is why we can confidently accept the custom work and take up almost any challenge."
Scott Stone agrees, "Whatever you dream up they can build. Whatever we sketch up, they can put on paper in a proper CAD format, tell you how they'll build it, and why they will build it that way, as well as how they're going to mount it, and what the performance of that piece will be."
A smiling Bob Norman concludes, "We love it when we hear a customer say, 'Wow, I didn't think this could be done, but it's turned out beautifully'. "
Interested in custom and specialty products? Contact us, and learn directly from our team of experts.