Industrial ventilation
You'll appreciate the solid construction and durable welded joints of our galvanized steel, stainless steel, aluminum and thermoplastic industrial ventilation hoods, each built to a specific size. A wide range of styles meets virtually any exhaust application—from vehicle maintenance to wastewater treatment to manufacturing. Single-piece construction is available up to any size that will fit on a truck and larger sizes are available in multiple sections for field assembly.
Keep work environments free of harmful vapors, fumes, oils, particles and more
Expertly designed with heavy-duty, high-quality materials
Options and accessories offer customized design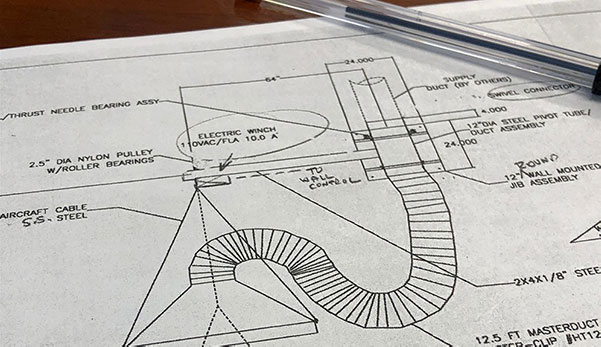 Standard Construction
18-gauge galvanized steel
18-gauge 304 or 316 stainless steel
.063" aluminum
Thermoplastic materials
(e.g. PVC, CPVC, PE and PP)
Welded seams
KEY
Models
Other Information
Options & Accessories
Internal baffles
Perimeter slot
Double shell
Dampered slot
Side skirt
Gutter and drain fitting
Filter rack
Mounted switch
Light fixture
Make-up air plenum
materials
Galvanized steel
304 stainless steel
316 stainless steel
Aluminum
Polyvinyl Chloride (PVC)
Chlorinated Polyvinyl Chloride (CPVC)
Polyethylene (PE)
Polypropylene (PP)
finishes
Mill (Thermoplastic is only available in mill finish)
Satin polish (only available in stainless steel)
Prime coated
Two-part polyurethane paint (standard and custom colors available)
Other paint finishes available such as epoxy or phenolic resin
Paint finishes
Available in twelve standard colors as well as any custom color. Shown below are representations of the standard colors*.
Contact us if you need a finish sample of the actual paint color.
*Colors shown are an approximation, each computer monitor displays color differently.
Application Information
For additional information regarding industrial hood applications refer to:
Industrial Ventilation Manual
American Conference of Governmental Industrial Hygienists
Cincinnati, OH 45211
513-742-2020
www.acgih.org
ASHRAE Handbooks
American Society of Heating, Refrigeration and Air Conditioning Engineers, Inc.
1791 Tullie Circle, N.E.
Atlanta, GA 30329
404-636-8400
www.ashrae.org
Customization
Custom hoods are available fabricated to customer supplied requirements. FAX or e-mail a sketch or drawing to KEES for quotation.
Some examples of custom fabricated hoods are:
Backshelf hood with front extension and flexible curtains
Backshelf hood with pad filter frames
Barrel filling hood
Conical overhead hood
Downdraft table
Equipment enclosure
Melting furnace hood
Spray booth